Our Commitment to Quality Installations
We believe in letting our actions speak for themselves. It's a part of who we are at SouthWest Sun Solar, and our roster of 10,000+ clients is a testimony to our exemplary work. Here's how we've been able to achieve that:
We handle end-to-end, from site inspection, loan clearance, acquiring permits, design finalization, installation, and repairs.

For any reason, if you think your system is malfunctioning, give us a call, and our team will be there within 24 hours.

With a 25-year warranty, you can be sure that even if the installation is complete, we will still be there for you. It includes free repairs to your solar system.

Our diverse team can speak Spanish, Vietnamese, Korean,

Tagalog, Chinese, Khmer, and, of course, English! This

heterogeneity makes us a perfect fit for the demography of California.
How Do Solar Panels Work?
A basic rooftop solar panel system has 4 basic components: solar panels, inverter, AC disconnect, and production meter.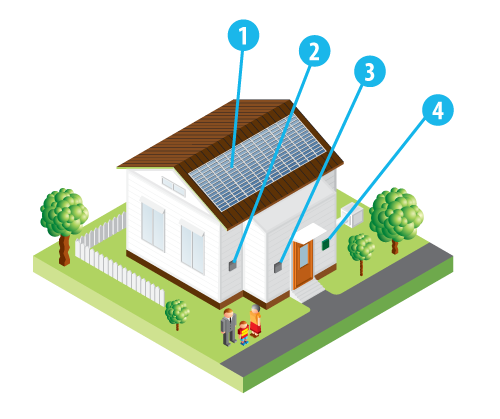 Solar Panels (Modules)
Inverter
AC Disconnect
Production Meter
Solar Panels
Solar panels, made of multiple solar cells, are the most visible part of your rooftop solar system. These cells collect light from the sun and convert it into electrical energy. Solar irradiation stimulates electrons in the solar cells, thus generating electricity. However, overheating caused by the sunlight can be damaging for solar panels, and they should be able to withstand the heat to last longer.

Inverter
The solar panels produce Direct Current (DC), whereas your home runs on Alternative Current (AC) power. The inverter's job is to make the electricity generated by solar panels into usable 240V AC electrical energy. Once converted, you can use this energy to run your regular home appliances. An inverter works non-stop during the entirety of your solar energy system. Hence, always go for a high-quality inverter that can be easily repaired.

AC Disconnect

An AC disconnect is an electrical switch that allows you to cut off the DC power output from the solar panels and array. It is useful when the solar system needs repairs or even during regular maintenance. The disconnect switch must be strong enough to handle the full power output from the panels on a bright sunny day. The AC disconnect can best be thought of as an extra gate for safety.
Production Meter
The production meter's purpose is to monitor how much electricity your solar system harvested throughout the day. Solar production depends on solar panel designs, weather, sun exposure, and your house location. The meter can help you attain maximum productivity from your solar panels while saving money on your electricity expenditure.