Since our inception in 2014, SouthWest Sun Solar has focused on improving its solar solutions and elevating our overall service. We have always tried to prioritize customers and their requirements. Over the years, we have improved ourselves based on consumer feedback and vow to continue to do so in the future as well. Let's see what sets us apart from others in the solar industry.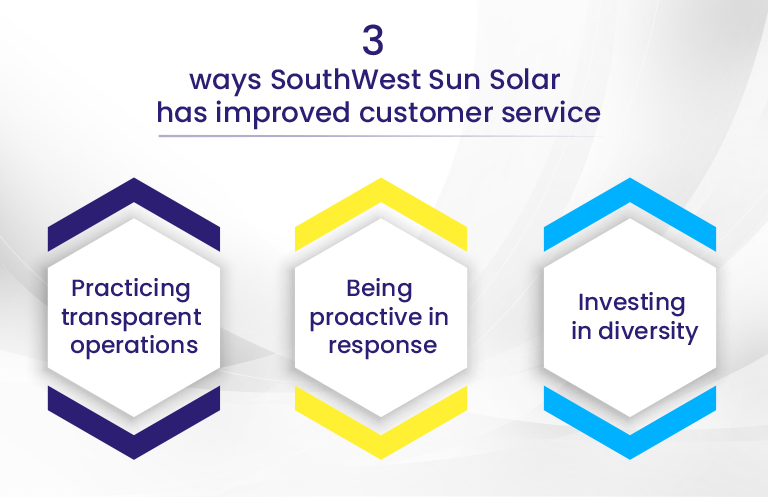 Practicing transparent operations
Customers are usually concerned about the final product and remain oblivious to the process, and rightly so. While most companies wrongly benefit from this, we beg to differ. At SouthWest Sun Solar, when customers trust us with a life-changing decision like going solar, the least we can do for them is practice transparent operations. We manage the entire process from site survey to installation in-house and ensure we keep the customer updated. Our team seeks their input at each stage, thus customizing the final solar panel design.
Being proactive in response
Our customer service never ends with solar installation. Once you become a part of the SouthWest Sun Solar family, you will always remain one. Irrespective of the installation date, you can reach out to us, share your concerns, and expect us to resolve them in no time. There's more! Our team will make sure to close your issue within 24 hours of raising it. If your solar installation needs repairs, it's on us! You can continue to stay in touch till we arrive at the desired solution. Along with a 25-year warranty, rest assured that we are with you for the long run.
Investing in diversity
We have been able to provide consistently better customer service because of our passionate and formidable team. From the onset, we have invested in inclusivity and diversity in our teams across the length and breadth of our organization. Apart from English, our team members can converse in Spanish, Vietnamese, Korean, Tagalog, Chinese, and Khmer. At SouthWest Sun Solar, we are committed to bridging the solar gap. Sadly, many communities do not have access to or the ability to communicate in English enough to understand the extent of solar energy and its benefits. A majority of our employees belong to these underrepresented communities. Hence, families that trust us with solar installation can take comfort in knowing that when they hire SouthWest Sun Solar, they are partnering with someone from the community. On top of that, we also train our staff members regularly on industry and technological updates to provide you with state-of-the-art solar solutions.
Our roster stands at 10,000+ happy clients. However, just 17.31% of Californian residents (as of 2021) have access to solar energy. We aim to attain 100% in the near future. If you want to be a part of this cleaner future or our work ethics have impressed you, visit our website today.