We're proud to be a part of an industry that has surpassed other sectors in diversity. However, the solar industry is yet to perfect the situation. Though a lot of progressive work has been done, much more needs to be accomplished. Thankfully, everyone noticed this gap and the whole country came together to work on eradicating it. To this effect, the White House announced an initiative in 2015 that opened up more job opportunities at all levels in the solar industry for a more diversified community. Here at Southwest Sun Solar, we are taking every possible step in the right direction.
The Southwest Sun Solar Team
Since 2015, we've been publishing the relevant diversity statistics of our company to help mitigate the diversity gap.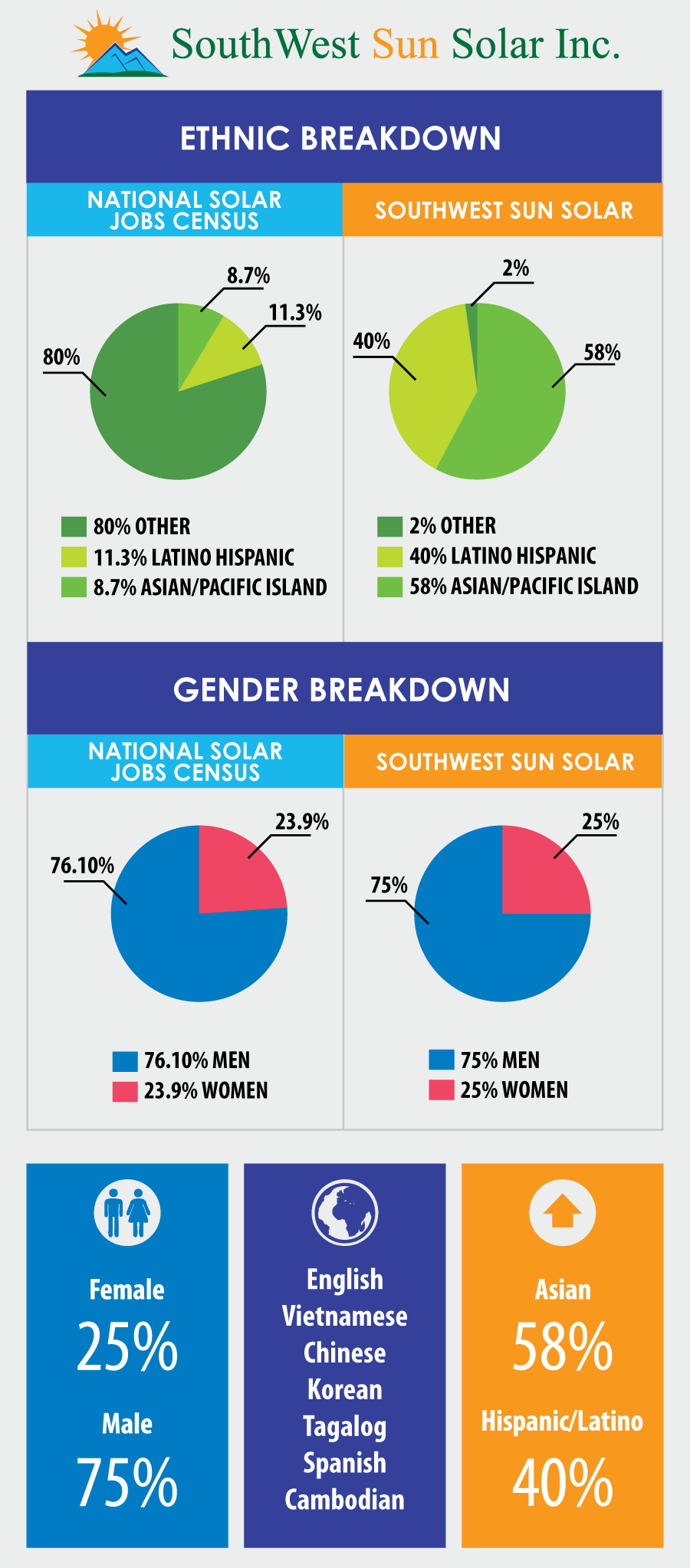 The Solar Industry as a Whole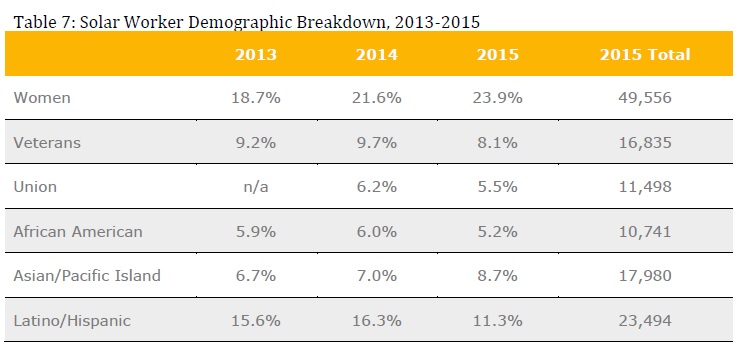 The full report can be found here
The Major Obstacles to Solar Adoption
Many consumers are unable to enjoy the benefits of solar energy because of their inability to understand the product or communicate their needs. A Bloomberg Technology report said that the major impediment to solar adoption is that "it's too complicated". This is something every solar company, irrespective of its size, has had to battle with. Making the already complicated situation more complex is the factor that several communities are comfortable in languages other than English. Considering the mentioned factors, Southwest Sun Solar has attempted to spread the word to these underrepresented communities since its inception.
What We Are Doing
Rather than expecting the underprivileged to reach out, Southwest Sun Solar has been using its resources to connect with these people. We've been targeting TV shows, radio stations, and magazines that minority communities consume daily. We have furthered our commitment through diverse hiring initiatives. We understand that Hispanic, Latino, and Asian communities, which make up 54% of the Orange County population, want to work with someone who understands their culture and speaks their language. At Southwest Sun Solar, our workforce is culturally rich and diverse.
However, we're not done yet! We've vowed to continue to reach out to community organizations to spread the benefits of going solar.
To see the official press release, you can download it here: Southwest Sun Solar Diversity Press Release