By going solar you can save $1,500 a year, or $37,500 over the course of 25 years, on average. Depending on factors such as availability of sunshine and solar incentives, you may be able to save even more! For instance, homeowners in California can save up to $90,000 in the same time frame of 25 years.
This means that if you're living in the Golden State, it's worth your time to contemplate making the switch to solar energy. If panel installation costs are holding you back, we at SouthWest Sun Solar are the people for the job. We offer installation at no extra cost with $0 down payment. Here's why you should choose us.
Seamless service: Our top priority is to ensure complete satisfaction for every customer. We offer unmatchable service and help you switch to clean energy as effortlessly as possible.
Customized engineering: We have established ourselves as a market leader by providing only custom-engineered solar solutions, comprising high-quality materials. With 8 years of experience, our team has the knowledge and expertise needed to drive solar conversions.
End-to-end support: From flag off to the finish line, we take care of it all. We have our own trained engineering teams and installation crews to guide you at each step. You'll find that our teams aren't just experienced, but also well-equipped to answer all your queries regarding installation, maintenance, and usage.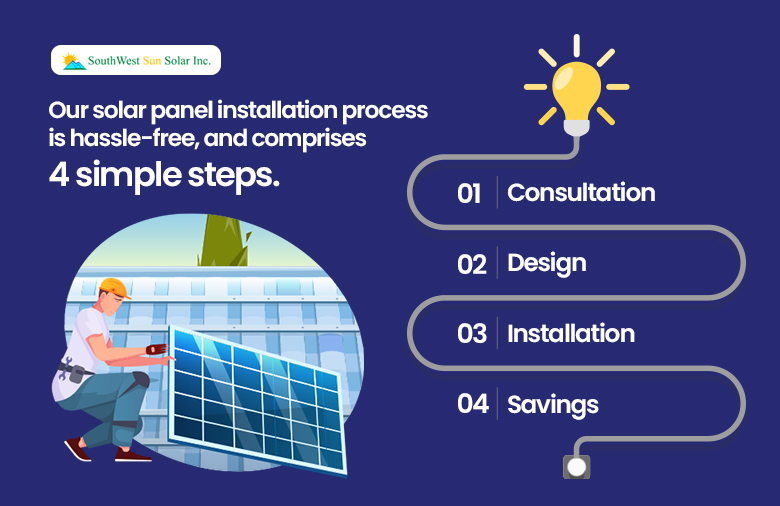 The best part? Our solar panel installation process is hassle-free, and comprises 4 simple steps. Take a look.
Step 1: Consultation
To begin with, one of our experts will speak to you to better understand your energy needs. Based on your current consumption, geolocation, and installation area, we will provide you with a free estimate.
Step 2: Design

We understand that every home is unique, which is why we lay great emphasis on customized design. Instead of a generic solution, we tailor one for you that meets your aesthetic and functional needs.
We identify the perfect location for your solar panel installation too, taking into account the size, thickness, and slope angle of your roof, as well as placement of chimneys/vents. We also factor in any other obstacles—such as a tree or a pole—that might obstruct the panel's access to sunlight.
Step 3: Installation

When it comes to rooftop solar panel installation, our team is one of the fastest in the business, providing error-free installations swiftly. From the initial consultation to installation, we have been able to complete solar conversions in under 6 weeks!
Step 4: Savings

The only thing left to do is to turn on the system so that you can sit back, relax and enjoy significant savings, month on month. Given that we don't charge for installation, you'll only have to pay solar panel maintenance charges. What's more, our installations come with a 25-year warranty and free repairs in Southern and Northern California. So, if you ever need assistance, we're just a call away.
Now that you know how you can make the switch to solar energy easily, get your estimate today.
But, don't just stop there! Ensure that your family and friends don't miss out on an amazing opportunity to shift to clean energy. Refer them to SouthWest Sun Solar. Once we complete the installation at their home, we'll send you a $500 check as a token of our appreciation. For more information, give us a call at 714-582-3909.